In the architectural and security landscapes, the door stands not merely as an entry or exit point but as a paramount bastion of safety. To the untrained eye, it appears as a mere combination of timber and fasteners. However, to experts and professionals in the field, a door represents a sophisticated convergence of design, material science, and advanced technology. When it comes to home security, doors often serve as the first line of defence. But what exactly makes a door secure? Is it the thickness of the material, the type of lock, or perhaps something more?
The Frame: The Skeleton of Security
The frame of a door is essentially its skeleton, providing structural integrity and a foundation for other security features. Frames made of reinforced steel or solid hardwood are generally the most secure options. A weak frame can easily be kicked in, rendering even the best locks ineffective. Additionally, the frame should be adequately anchored to the wall to ensure it can withstand forced entry attempts.
Material Matters: Choose Wisely
The door slab itself plays a crucial role in security. Common materials include wood, steel, and fibreglass. Steel doors offer the highest level of security, but wood and fibreglass also provide robust protection if they are of high quality and thickness.
Steel: Highly resistant to impacts and hard to deform. Steel doors often come with an added layer of insulation, ensuring not only robust security but also energy efficiency. Their durability also means they have a longer lifespan, making them a cost-effective option in the long run.
Wood: It must be solid hardwood for maximum security. Hardwood doors offer a combination of classic aesthetic appeal and solid protection. When treated properly, they can resist environmental damages and wear, maintaining both their look and security features over time.
Core Strength: What Lies Within
Some doors come with a reinforced core filled with metal or other rigid materials, which adds another layer of protection against break-ins. It makes the door more resistant to attempts at drilling or cutting. With this core, the door is better equipped to handle prolonged use and environmental stresses. Furthermore, doors with reinforced cores typically offer improved insulation properties, promoting energy efficiency within the building.
Hinge Health: Small But Mighty
Hinges may appear trivial, but they carry the weight of the door and ensure it swings open and closed securely. Exterior doors should have at least three hinges, and for added security, hinge pins should be non-removable to prevent the door from being lifted off its frame.
The Lock: The Heart of Door Security
The lock is undeniably the heart of any secure door system. Here are some types to consider:
Deadbolts: Far more secure than simple knob locks, offering enhanced resistance to picking, bumping, and forced entry.
Smart Locks: Offer the convenience of keyless entry and the ability to monitor and control your lock remotely via a smartphone app.
Multi-point Locking System: Engages the door at multiple points within the frame, offering enhanced security.
Concluding Thoughts and Where to Find Quality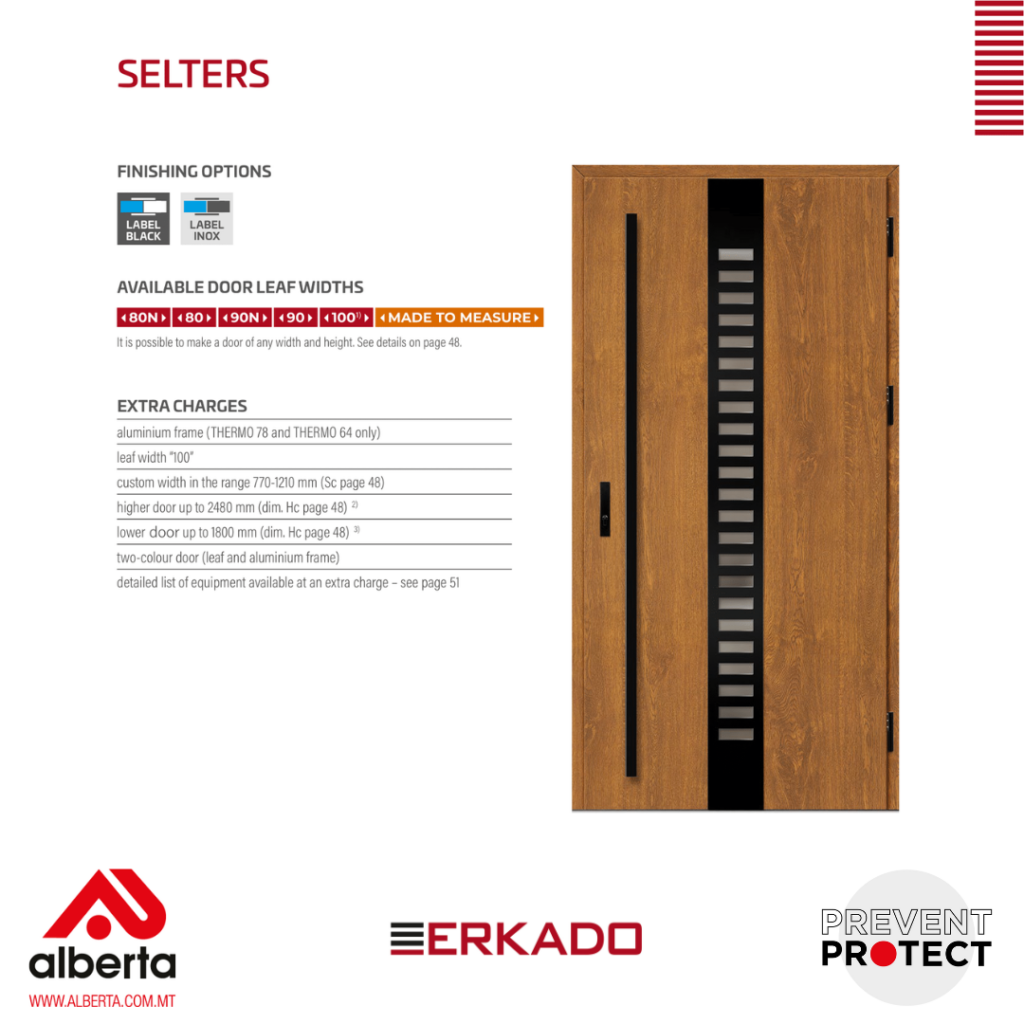 Although absolute security is a lofty goal, a well-designed door adds crucial layers of protection, from its robust frame to its high-performance lock. Investing in these elements significantly enhances the safety of your home and loved ones. It's crucial to partner with a provider who excels in offering both secure and stylish options. By joining forces with Erkado, Alberta, your one-stop-shop for security items, is committed to delivering doors that not only complement your home's aesthetic but also prioritize your safety.
So the next time you find yourself shopping for a new door, keep in mind that it's about more than just good looks. Take the time to delve into the anatomy of a secure door and opt for features that provide both style and peace of mind. With a trusted provider like Erkado, you can achieve both.